What exactly is *Hismith* sex machine, Anyway? You can say that vibrators or anythings with some sort of electronics or battery inside is a machine, that used for sexual pleasure.  All in all,  Hismith sex machines are not only an adult sex toy, but also a tool that can bring the relationship between husband and wife closer. Article sourced from hismith.com
What is a Sex Machine?
A sex machine (also sometimes called a fuck machine) is usually bigger than a vibrator or a penis masturbator and uses mechanical components to make different movements or vibrations. They can thrust, vibrate, stroke or generally move. Although there are a lot of porn videos around the net of women using them, men and non-binary individuals can also use sex machines for vaginal, anal, penile, and clitoral stimulation, as well as general orgasmic bliss. These machines usually do not fit inside your nightstand drawer, but what they lack in compactness they make up for in power, customizability, and functionality.
What exactly is *Hismith* sex machine, Anyway? You can say that vibrators or anythings with some sort of electronics or battery inside is a machine, that used for sexual pleasure. All in all, Hismith sex machines are not only an adult sex toy, but also a tool that can bring the relationship between husband and wife closer.
Hismith sex machine is an adult sex toy that produced by Hismith sex toy company, There are several premium sex machines. The basic premium sex machine model - HS06 series, Hismith Pro Traveler 2.0 - HS18, Hismith Table Top 2.0 - HS10, Hismith Capsule Mini - HS19, and the last version: Hismith Quadruple Penetration Fucking Machine - HS08-AMC, Each of these sex machines has its special functions, Off course, these different functions are different from prices.
Benefits of Using a Sex Machine
What are the benefits of using a sex machine over just masturbating with your hands or having sex with a partner?
Ok, Let's look at a few advantages below:
It Will Relieve Stress
Achieving orgasm through the use of sex machine can significantly enhance your mental wellness as well as make you happy simultaneously. It is reported that once you climax, you will produce serotonin and oxytocin. These are the hormones associated with joy. They are referred to as the "happy" hormones. When you masturbate regularly using a sex machine, you will produce the hormones which will make you less stressed.
You'll Will Enjoy Your Sex Life
If you don't communicate with your partner, you will fail to know what to do when you're getting intimate. It can be a daunting affair, especially if you involve fucking machine. Still, it is crucial to experiment with sex machine so that you discover your partner's likes and dislikes. Masturbation won't cut it alone.
You will enjoy the sensations after you use a fuck machine. Also, you will discover new tactics when having sex. Communication is essential as it will ensure that both parties are satisfied with the experience.
Improved Satisfaction
As I mentioned before, when you use toys by yourself, you'll gain a greater understanding of what brings you the most pleasure.
For someone entering a sexual relationship or even just discovering their own sexuality for the first time, having toys and accessories gives the opportunity to find out what you like and what brings you pleasure. Having this intimate knowledge of yourself will improve sexual relationships with partners because you can communicate exactly what you need and show them if necessary.
It Will Ensure Keep the Vagina Healthy
If you want to keep the vagina walls strong and healthy, you should regularly make use of a sex machine. Why? When a lady is aroused, the walls of the vagina will produce juices that aid in making the organ moist for easy penetration. The moisture will assist in maintaining the vagina's elasticity as well as keeping the organ healthy and even be able to use something like the hismith premium sex machine.
Sex Machine Will Ensure You Sleep Well
There are situations where you don't need a sex machine. However, a sex machine can help you sleep well at night. An orgasm will improve the quality of your sleep, especially if you have trouble sleeping. When you get an orgasm, you will produce a hormone called prolactin. It is a hormone well-known to help you relax.
Makes Long Distance Easier
Anyone who has ever been in a long-distance relationship will tell you they are difficult. But they don't have to be lonely. You have more options with a sex machine and can still enjoy thrilling sexual adventures even if your partner is miles away.
This opens up a whole world of possibilities with a Smartphone and a Skype subscription. You can do video sessions or record one and send it to them to watch later. Your relationship doesn't have to get boring just because you're not in the same area.
Practice for Sexual Encounters
For young women (and men) who have never had a sexual relationship before this is a great option to practice before attempting the real thing. Your first time can be somewhat awkward with a lot of fumbling to find the right spot or the right amount of pressure. This is one way to remove that awkwardness by getting a little practice at finding out what feels good to you and learning how your body responds.
Before buying any type of device or appliance there are things you should take into consideration.
Everything You Need to Know About Buying a Fucking Machine:
Figure out what type of sex toy you want?
From clit suction toys to vibes that look like microphones, butt plugs to prostate massagers, there are nearly as many types of sex-toys as there are plates on the Cheesecake Factory menu. Before you start looking, do some noodling about the kind of sex toy you actually want to buy. Anyway, you should know what exactly you need, dildo? vibrator? or fucking machine?
Do a little research.

You comb through Reddit and reviews before splurging on a new skin-care product—why should sex toy shopping be any different? Reading some online sex toy reviews and/or going into a sex shop should be part of the process, too.
"We recommend reading online reviews just as you would before you book Airbnb," says Dominnique Karetsos, resident sex expert at MysteryVibe. Learning online gives you the opportunity to explore what\'s out there, learn about other folks\' experience, and offer you an ~invisbility cloak~ if you\'re nervous about sharing your desires (even with the educated professional at the sex shop), she says.

That said, perusing in-store has some perks. "Informed staff members can answer questions on the spot and help you make a selection," says Karetsos. Nowadays, most sales associates at sex shops are queer-friendly, body-positive, sex-positive, and genuinely knowledgeable about the products offered. If want to know whether vibe X or vibe Y is better for you? Ask a staff member. Want to know if the toy is body-safe without reading the back? Ask the staff member. Plus, they usually have some savvy tricks on hand to elevate your experience with the toy, she says.

Finally, there\'s the added value of being able to touch the toys. Sex shops usually have tester toys on display. Hold those babies in your hand. Press all the buttons. "Give yourself permission to let your turn-ons lead the way in deciding what you want to buy. Find something you can see feeling good and bringing you pleasure,"
Set your price point.

Don\'t mistakenly conflate price for quality. A higher price point isn\'t necessarily indicative of a higher-quality and/or more orgasmic sex machine. Toys under $200: These are great starter toys, but they likely won\'t last more than a couple of years. "There are some great sex machines in this price range that can serve as introductions to new sensation," (For reference, my favorite portable mini sex machine for the beginner ever is $170.)
Toys between $200 and $300: Here, you\'ll find a solid toy that will last you a few years. "You\'ll get quality toys with really nice features, without the premium price tag," (The Hismith Pro Traveler 2.0, an app&remote controlled device is within this price range at $270 Portable Sex Machine App Controlled with Remote - KlicLok System - 6.8" Insertable Silicone Dildo.
Sex machine above $300: Now you\'re getting into ~luxury~ sex machines. "These sex machines tend to have extended warranties, a host of great features like remotes, Bluetooth connected apps, and fancy storage cases,". If you know what kind of sensations you like, investing in a high-quality toy that will last through years of use is a great move. Confirmed that you enjoy thrusting machines? Check out the Hismith Premium Sex Machine - the basic model (Buy It, $429.99, hismith.com). Love to control by remote or phone app? Tempt yourself with the Hismith Updated Version - APP & REMOTE Control (Buy It, $499.99, hismith.com).
Bundle package over $500: Yep, You want to ultimate more pleasure by more machine accessroeis and attachments. check here: Hismith premium sex machine bundle packages, which is a sex machine designed to simulate penetration and more pleasure.
The Available Attachments:
Most models are sold together with other attachments that heighten the sexual experience when used together. So, make sure that you ask whether or not the accompaniments can be interchanged depending on your preferences before buying.

Versatile machines are preferred more than the static ones.
The Quality of Materials Used:
The quality of the material used to make the sex machine not only influences the sexual experience, but it also determines how long you will enjoy your purchase.

Today, there are thousands of products in the market, but they are all differentiated by the quality of the material used. Most importantly look for the materials used to make the dildos and the masturbator because these parts will be in direct contact with your body.
Control Parameters:
You must go for a machine that gives you the most control to maximize the sexual experience. Buying one with more control parameters promotes a more adventurous experience. Hismith machine is at the forefront of machine control modes. Their machine is realized, speed governor, remote control, APP, 3-in-1 control.

So, before you make the purchase decision, make sure that you can control the vibration frequency, motor speed, and thrust. With different people reaching orgasm under different parameter levels, You must have the choice in what you intend to achieve.
Discretion and Storage
Do you stay with your parents, or with a relative? Do you have a member of the family that regularly visits you? Or do you want to hide your sex toy?

If the answer is yes, then you'll need to consider storage for your device. Machines that are small in size can be easily hidden. Others are inflatable and thus can easily be deflated for easier storage.

Read through the manufacturer's instructions for potential noise if you need to be quiet at home.
Safety:
Whether you have or haven't used a sex machine before, it's important to go through the manufacturer's guidelines before using it. Incorrect use can lead to unnecessary injuries and even death.
Return Policy
Anytime you are making a big purchase or investing in something important you should know what the company's return policy is. Sometimes things get messed up when ordering online, if you receive the wrong product or it is not up to your expectations can you return it for a refund?
Find the best Hismith sex machine: A practical guide

Use promo code
HISMITH
 to save 10% in limited time!
Key Features:
Sturdy Foundation: It has solid construction with over 4kg of weight to make it sturdy and capable of sitting firmly on the floor.
Powerful:The machine motor is durable and powerful, as wild as you can imagine, and never stops because of resistance. Core strength takes you to the highest point.
Very Quiet: Go ahead and enjoy your private time because the noise of the machine is below 50 dB and is very quiet. The neighbors aren't likely to hear this running.
Long Stroke Length: This machine has an adjustable stroke length from 1.2 to 6 inches (3 to 15 cm), and can be easily adjusted with a screw knob.
Angle and Height Adjustable:You can adjust the angle and height for your favorite positions to hit just the right spot. The machine is easy to assemble, use, and store away for later.
Precise Speed Controller: The speed of hismith premium sex machine ranges from 0 to 240 RPM. It has a remote control version HS06-APP which is $100 more than the wired control version.
Extras: It comes with a 8" realistic medical grade silicone dildo which is and a portable bag which are just suitable for the machine.
More add-ons available: HS06 is of eight-square Kliclok connecting system which is updated from Quick Air connector, to avoid rotation when working. Hismith also design, manufacture and sell massive attachments for machines, dildos in different size and shape, fleshlights for male masturbation, extension rods for better use and adapters for being compatible with other types of dildos.
This video will show how it works:
Advantage:
Powerful motor that satisfies
The 6" stroke length offers real experience
Adjustable height to meet your favorite sex position
High quality, durable material
Disadvantage:
A bit more expensive than some but well worth it
Although it comes with a bag it is too heavy to tote around
Updated Versions:
Remote Control Version: HS06-APP $499.99
---
APP Control Version: HS06-APP $499.99
Different Color Version: Luxury Golden, Noble Purple, Elgenece Red, Venecian Blue $519.99
Overall:
Motor Strength (Torque): 48W, 144N.cm torque | Stroke Length: 1.2-6" (3-15 cm) | Speed: 0-200 RPM | Weight: 15 lbs(6.8 kg) | Warranty: 1yr machine, 2yr motor | Adjustable Height / Positions: 30 degree + vertical | Additional gift: 7.1" dildo + portable bag
Key Features:
Quality and solid: Made of aluminum alloy material and stainless steel, sturdy yet not over weight, very easy to carry around with a portable bag.
Ajustable stroke length: Hismith's exclusive infinity stroke settings allow you to easily adjust your sex machine's stroke depth from 1.2 to 6 inches.
Powerful and quiet: The strong motor with 48W maximum output provides up to 200 strokes per minute and makes noise less than 50dB.
APP Controlled: Able to follow built-in or DIY modes on Hismith APP. Another mobile can control it with Internet no matter how far apart you are.
Very easy to use: Not any tools needed to assemble it, adjust the angle or stroke length or install/uninstall accessories.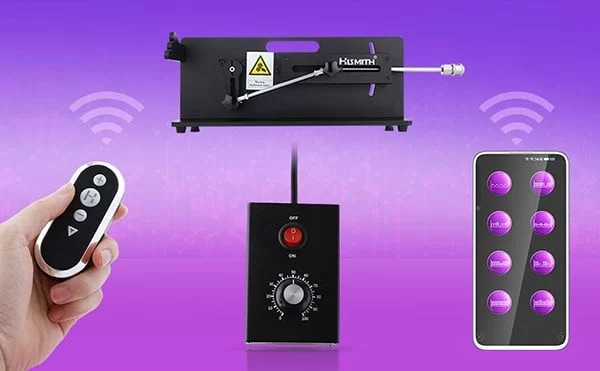 This video will show how it works:

Customer Reviews:
Overall:
Motor Strength (Torque): 4.6W | Stroke Length: 1.6" (4 cm) | Speed: 0-240 RPM | Weight: 2.9 lbs(1.3 kg) | Warranty: 1 year | Adjustable Height / Positions: 120 degree | Additional gift: 6" dildo + portable bag
Key Features:
Compact but powerful: Perfect size for handhold and carry, plus provides 370 RPM powerful penetration, spice your sexual life up.
Rechargeable: Lasts for 60 minutes after 2 hours charging, enjoy the pleasure anytime, anywhere and say goodbye to the troubles of messy cords
Remote and APP controlled: Controlled by the remote or Hismith APP sensitively and precisely, Its control can be shared with others, best sex toys for long distance lovers.
Rich speeds & frequencies: It has 4 built-in models and is waiting for you to set up more programs on Hismith APP. It can run at different speeds when following a program.
Adjustable angle: The adjustable range of angle is 0-120 degree, and it comes with a super strong suction cup so will be suitable for more situations.
Buy without worries: Battery life up to 2 years; 1 year warranty; safe and discreet package to protect your privacy.

Customer Reviews:
Key Features:
Hismith Pro Traveler is hands-free with its suction cup being stable on most good surfaces. Floor, solid wooden chair, tables all work great.
At 24W the power produced is not great but good enough for what you need. Powered by 12V/2A DC Supply, it has 3 Speeds and 8 Frequencies and stroking speed of up to 150 times/min.
It comes in a nice little box with a remote control and 6.8" silicone dildo. Pro Traveler is of Hismith original Kliclok connecting system so other Hismith dildos and masturbators will work with it as add-ons.
Adjust the knob to change the angle from 0 to 120 degrees to enjoy more available positions.
Advantage:
High quality and extremely portable
Affordably priced compared to the HS06
Hands-free with strong suction cup and remote control
Versatile and compatible with add-on attachments
Disadvantage:
24W output power, 1.8" stroke length and 150 strokes per minute, it's good for beginners but more experienced users may find it lacking.
#5 - Basic Sex Machine at Low Price STOY0430 $159.99
Key Features:
0-48W, 12-24V DC, 180 thrusts/minute, 2.4" (6 cm) stroke length, pretty good performance for beginners and skilled hands.
Budget –priced to be affordable
Adjustable from 0 to 90 degree to allow a variety of sex positions.
Four removable suction cups help it grip surfaces and make it stable.
Hismith also have many replaceable 3XLR attachments - dildos, masturbation cups and adapters - compatible with sex machines of 3XLR connecting system.
Disadvantage:
This machine is quite noisy at full speed.
It's not on the same level with other models, but it does have a 1 – year warranty. Stability may be compromised when using at full speed.
Hismith 3XLR attachments are mostly made of PVC instead of silicone so you'd better use a condom for insertion. Besides, you can also use premium silicone dildos if having a 3XLR-to-Kliclok adapter or suction cup dildo holder.
#6 - Quadruple Penetration Fucking Machine HS08-APP $689.99
Key Features:
---
This model is a premium version designed for two people for double penetration. It can be used in the vagina or anus or both. It's the perfect toy for couples to experience pleasure together. For use by women and men - Hismith supply male masturbation cup and anal dilos for gentleman.
The updated motor is more powerful than HS06's motor. The Hismith Quadruple Penetrator can hold up to 4 dildos simultaneously. It is strong and stable.
Customizable modes for more options, 1-0(solo play), 1-1, 2-2 and etc..
Comparison between HS06 and C0636:

This machine is heavier due to being made of metal. It is stable and sits steady. It is compact and makes little noise. Has the same motor as STOY0430.
#8 - Metal Cannon, Remote Control Thrusting Sex Machine HS07-APP $429.99
This model costs the same amount of money as the HS06 but doesn't perform the same.
The stroke length is not long enough and it is difficult to store. It can be adjusted from 0 to 90 degree but the range of height adjustment is not very satisfying.
With a lower center of gravity it is more stable and powerful as a Hismith Premium sex machine.
Cannon is of Quick Air connector, fits to quick air attachments directly and Kliclok attachments indirectly with an adapter.
Tips on How to Use a Sex Machine:
Use Lubes
Fucking machines are popular because they work faster than a human being and don't tire out. A fucking machine can operate with a speed of up to four strokes in one second. It is important to remember that friction causes burns and irritations so just like in your car, be sure to use lubricant.
Focus The Mind
When riding your virtual dick, you will have to focus your mind on the intense simulation that you will be feeling. This is because fucking machines are made to give you a sensation that you have never felt before. To ensure that you enjoy your session, you will have to focus. You can try blindfolding yourself in order to focus.
Use Stable Surfaces
Always use the machine on a flat, level surface for stability. Due to the rotating movement, it may "walk" on wooden floors. Has a better grip on carpeted areas.
Remember the Angle
When you find the right angles for the positions, put marks on the stands for quicker future setup.
Hygiene is Important
Remember to clean your toys and your machine after every use. Germs and bacteria can cause a nasty infection so always clean up after every session.
Keep Calm
The first few times you use your new machine it may be hard to stay calm and enjoy the ride. Just remember that this is a device with moving parts so be careful and don't move around too much or move suddenly. Moving too much can cause the dildo to slip and it may become uncomfortable.
Size is Everything
When choosing a sex machine, be sure to size it correctly. Never choose a larger one than you're used to. It may be tempting but…just don't. Make sure the dildo on your fucking machine is just the right size for enjoyment. If the one you choose is too large you won't enjoy it and you won't have anything smaller to use on it unless you get one with add-ons.
Specialists in Sex Machines
At Hismith, we are constantly busy innovating and produce our sex machines in our own factory. This has led to the fact that the most powerful sex machines in the world can now be found in our range. We are tremendously proud of our quiet and robust Hismith Premium Sex Machines. By manufacturing the machines ourselves, we can offer a high level of quality while maintaining competitively low prices. Our patented KlicLok® connection system ensures a safe connection between the sex machine and the attachment. The Premium Attachments are specially designed to mount onto and use on a Hismith Premium Sex Machine. Think of, e.g., a dildo, a masturbator (pocket pussy) for men or other accessories and adapters. Every month we release new attachments so that you can keep on varying endlessly. The sex machines can be fully adjusted to your personal preferences via the Hismith Smart App. Set the speed, penetration depth and vibration yourself and enjoy hours of play and pleasure!